Did you know...
... that our new information metrics and methodologies that can be applied universally to objectively assess the amount of information collected during data.
... that you can use our new information metric to visualise flexible parts in three-dimensional reconstructions? Two SARS-CoV-2 Cryo-EM reconstructions were compared with our information content maps. Flexible parts of the object show a lower correlation and information content. In our local information maps flexible and stable parts of the object have different information content values, which are colour coded in the images above. The comparison directly reveals details of the glycosylation of the virus spike trimer.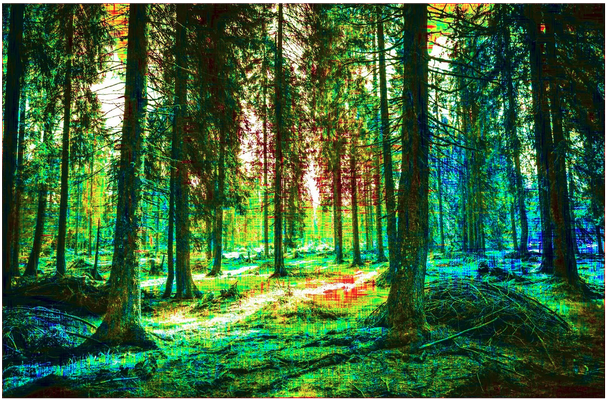 ... that the global information content is an average measure over a whole image. But the information content of images varies locally. Local information-density differences can be colour-coded to directly detect objects of a given size (like tumours). In the example, the branches and twigs - rich in local contrast and detail - are areas with a high information content (blue) compared to areas like tree stems (yellow) or undetermined areas (red), which are fuzzy dark background areas or homogeneous white sky.

... that the information values provided by both, our global and our local metrics, give absolute values measured in bits, in contrast to metrics that are currently used, like the Signal-to-Noise-Ratio (SNR).

... that you can compare detectors using our information content metric? The information values provided by our (local) metrics give absolute values measured in bits, in contrast to the currently used metrics, like the Signal-to-Noise-Ratio (SNR). The information contents of images of different cameras, detectors, data collectors etc. thus become directly comparable.
... that "raw Images" from your camera are not necessarily "untreated Images"? Our new local information map of a noisy picture imaged with a smartphone camera shows that significant image processing was performed inside the camera and that even the "raw images" are already images that have undergone significant processing.

... that you can use our information content maps to compare original and compressed images? As expected, compressed images show less detail in comparison to the original image.
... that we are looking for partners to showcase our technology and to potentially optimise this technology for your specific application. If interested, we would like to set up an video meeting to discuss further details. Please contact us!