Location

Gillweg 3 - 14193 Berlin
Visitor entrance: Hubertusallee between #8 and #10
Street Map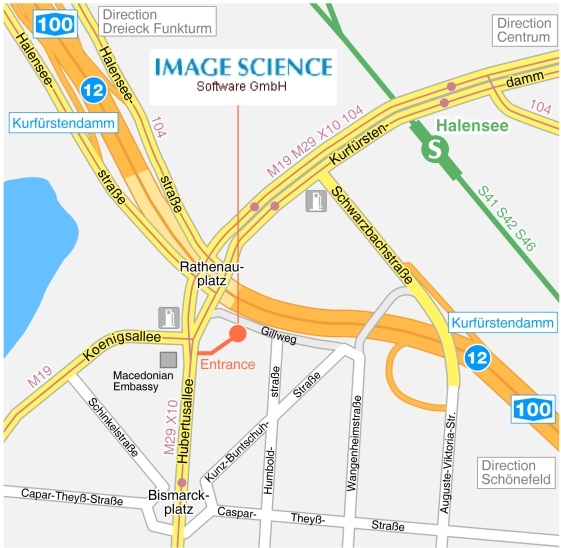 The location is at the (western) end of "Ku'damm" near Rathenauplatz:
Public Transportation
U-Bahn / S-Bahn / Bus
Use public transportation to "S Halensee". You need a AB ticket (Airport Berlin-Tegel, train station Berlin Hauptbahnhof) or ABC (Airport Berlin-Schönefeld).
You can try the following widget for detailed information:
Translation: Von=From, Nach=To, Am=Date Um=Time An=Arrival, Ab=Departure, Suchen=Search/Start
Arriving at S-Bahn Halensee
There is only one exit. Leave the station and turn to the left. Follow the street crossing Schwarzbachstraße (red lights). You'll reach Rathenauplatz and finally Hubertusallee. The entrance to Image Science is between Hubertusallee 8 and 10 (there is a sign "Gillweg 3").
Responsible/Verantwortlich - &copy Copyright: Image Science Software GmbH
Site Notice | Privacy Policy | webmaster(at)ImageScience.de